Ali Hassan Issa - partner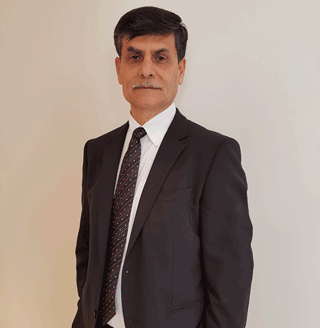 Ali has 40+ years of work experience with big 4 firm, where last 30 years of experience has been in the Middle East Region. Worked as a Senior Partner for 16 years with the big four firm. Ali has worked extensively on assurance, consulting and transaction advisory assignment.
He brings years of high quality experience to guide clients regarding business strategy, policy, accounting matters, assurance and litigation support. Ali has been leading the big four as a Partner in the service line of Assurance and Audit with additional assignments on complex Litigation Support matter, family office advisory and Transaction Advisory.
Ali has deep experience in the GCC region with strong command on Arabic language and he is a Member of the Institute of Chartered Accounts England and Wales.
Vikas Gupta - Partner

Vikas is an expert in audit, assurance, operations and controls. He has worked in big four audit firm and managed large clients to ensure high quality financial control environment and conducted assurance assignments. Vikas has rich industry experience of managing sophisticated accounting functions and operations teams.
Further he is an expert in risk management to design dependable financial and operational control environment.
Vikas has over 18 years of experience and an expert in VAT, Assurance and Audit. He held key operations role in Dubai Islamic Bank and managed Assurance clients in EY, Dubai office. He is a Chartered Accountant (ICAI), B.com (Hons), Delhi University, India
Ehab Hassan - Advisory Board Member

Ehab has 27+ years of experience in the oil and gas and banking industries in the fields of human resources, and organization development. Ehab has developed and managed areas of Organization Development, Reward and Support Services, Learning & Development, Emiratization, HR Business Relationship, Employee Relations & Policies, HR Quality, Public Relations, and leadership coaching and transformation. Ehab is a MBA – Business Administration, Hull University from UK and BA, Business Administration, Pacific University from USA.
Ursula Teubert - Advisory Board Member

Ursula is an expert in Innovation, R&D and Production engineering, and a seasoned Project Manager. She led international R&D and Production projects in the automotive industry and coordinated multicultural, multilingual projects involving up to 100 collaborators (from production workers to executives) in Europe, Latin America and Asia. Her deep engineering expertise combined with her musician upbringing and education, made her a creativity champion and a genuine advocate of open-innovation, business and competitive intelligence and brain boosting techniques.

Ursula holds an INSEAD Global Executive MBA (2011 – 2012 France/Singapore/Abu Dhabi). She previously graduated as a Master in Mechanical Engineering at the Technical University of Darmstadt (1991 – 1997 Germany) and validated a Thesis at the INP Grenoble – ENSHMG (1995 – 1996 France). She is fluent in German, French and English.